I've had two conversations lately where I felt thrown for a loop.
The weather is cooling just a bit, and it's wonderful to be outside in the afternoon. After dinner, our crew headed out front to enjoy the evening. Our next door neighbors were outside, too, so I took Ben over to show him off. :) We were talking about how beautiful he is and what color his eyes are (blue!) and so on, when my neighbor commented that she could see that he was part-Asian because of his eye shape. I agreed, and then told her that he has Down syndrome as well. She was super-positive, just kept loving on him and saying how sweet he is (like sugar!). She's a nurse, so she gave him the once-over and told me that he really looks great.
Then today, we went to Evan's report card pickup (he did great - all scores in the 90's), and stopped to talk to the school secretary. She's half Japanese and likes our family because Emmett's half Japanese as well. She and some of the teaching staff all stopped their conversation to admire Ben, and she made the same comment about his eyes! "Oh, you can see that he's Japanese because of his eyes!" This time, I just smiled and agreed; I didn't say anything about Down syndrome because I felt awkward.
I'm not ashamed of Ben at all - or ashamed of Down syndrome. I'm just not exactly sure how to work it into conversation. Is it that important to mention that he has it? Or can people just tell from looking at him? I look at him all day long, so I don't notice anything different. He just looks like a baby to me - although I do think he's more beautiful and amazing than any other baby I know.
I need a conversation strategy.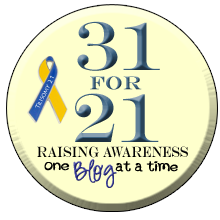 Grab This Button