Hello, October!
This is National Down Syndrome Awareness Month. There are lots of activities happening on-line and in real life to educate and inform people about Down syndrome. I am thankful because I have a lot to learn.
We didn't know that Ben would have Down syndrome when he was born. We knew that it was a possibility, but we didn't really think about it much. We prayed for a healthy baby, and we talked about how having a third child would change our family, but we didn't anticipate having a baby with special needs.
Maybe sometime later this month, I'll write about the prenatal testing and the diagnosis at the hospital. I don't have the time right now to find the words.
I will say that I spent Ben's first month worrying more about his eating, peeing and weight gain than I did about Down syndrome and congenital heart defects. However, now that he is 2 months old, with a good eating schedule and gaining weight, I am trying to learn more about Down syndrome.
The most fun thing has been reading blogs. There's a challenge going on right now called "31 for 21" - the idea being that people should post once/day for a month to raise awareness of Down syndrome. I'm not participating because I'm only 2 months into the journey. However, I plan to READ LOTS of these posts.
You are welcome to join me! :) And please, give me a heads-up if you know of a great resource or read a fantastic post.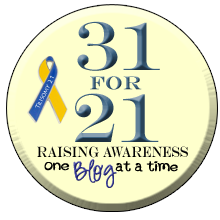 Grab This Button