Evan and Corrie are both playing soccer this fall.
The kids have played two games apiece. In Evan's first game, his team lost by many, many points. This could be because their best player from the past two years opted to play football instead of soccer this fall. We miss J. In Evan's second game, he played more aggressively than we've ever seen him, and so did the other boys on the team. The game ended in a tie: 3-3. It's been fun to see the boys on the team grow in their soccer skills.
For the past year, Corrie has said that "when I grow up, I will be a soccer girl!" She even got a hot pink soccer ball in her Easter basket. This is the first season that she's eligible to play on a team. She likes soccer practice OK (especially the snacks), but something about the games makes her nervous. Corrie loves wearing the uniform (of course!), but has little desire to actually get in the game. She didn't even go on the field in her first game. I finally told her that she had to
sit with
her team and
cheer
for her team in order to get the after-game snacks. Snacks are very motivating. For her second game, we talked to her about going IN the game. And she did! She was on the field two or three times, for maybe 30 seconds total, but she got to do a throw-in. Corrie stayed very far away from the ball. I'm curious to see what will happen next.
This is a good reminder to take the camera to the games, because this may be Corrie's only season of soccer.
Ben has slept through all the games so far. He's got one of those cute baby outfits with a soccer ball on his bottom, so he shows some spirit even while he's knocked out.
Taking the whole family to the soccer field on Saturdays brings back some fond childhood memories. I was a somewhat reluctant soccer player, but my brothers were both big soccer buffs. And my dad got
really
into it - he would sit at our kitchen table drawing soccer fields on graph paper and making notes about plays and players. It makes me happy to think that my kids are doing something that their Grandpa Frank would have enjoyed. I wish he were here to see them!
(I am trying to post every day to raise awareness for Down syndrome, but I don't know enough to actually post about Ds every day. If you're curious, click the button and check out some of the other blogs. Very informative!)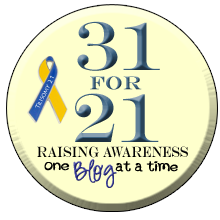 Grab This Button