I totally failed at 31 for 21 yesterday. I
intended
to post something, but ...
Today I thought I'd give you a list of some of the resources I've found over the past 2 months. Ben's postnatal diagnosis meant that I had (have!) a LOT of research to do. I feel like I have so much to learn, and I need to learn it quickly. The following books, websites and organizations have helped.
Babies with Down Syndrome
is a book that gives a good overview of some of the medical issues that kids with Down syndrome might experience. I have appreciated the comments from other parents, and I particularly like the way the book gives an idea of how prevalent the medical issue might be (i.e. "this affects
many
children with Ds" or "this condition applies to only a
few
children with Ds"). The book talks about more than medical issues; it seems like a good reference book to have on the shelf.
The moms and dads that participate in babycenter.com's
Down syndrome group
have a wealth of knowledge and experience. It's a friendly place to ask questions. They also have a blogroll with lots of websites. I have loved reading about birth stories, heart surgeries, achievements and therapies.
Choosing a doctor has been one of my biggest concerns lately.
This page
gives the guidelines for what tests should be done and when. I'm planning to take with me when I talk to pediatricians over the next week or so.
Down by the Border
is our closest Down syndrome association. They do special events every other month - we'll go to our first event later in October. Down by the Border also gives newborn baskets to new parents. I picked up our basket on Wednesday and it's great: some fun stuff for the baby (a toy, a cute outfit, a baby bath) and lots of information.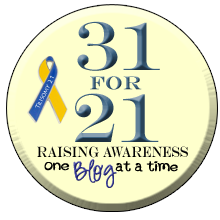 Grab This Button